Ready to get started? We would love to hear from you!
About Company
Why Go Solar?
Started with a strong commitment towards a sustainable future, Utkranti Urjatech today has grown rapidly and has developed a significant footprint in the Solar Industry. Our journey has strengthened our belief in renewable energy and thus we are offering best solar power solutions while providing value for money to our clientele.
Utkranti Urjatech is present in the broad value chain of solar products from modules to system integration and has one of the biggest customer base of solar power plant installations in India. By our collaborative and flexible approach, we render real-world, sustainable, measurable solar power solutions.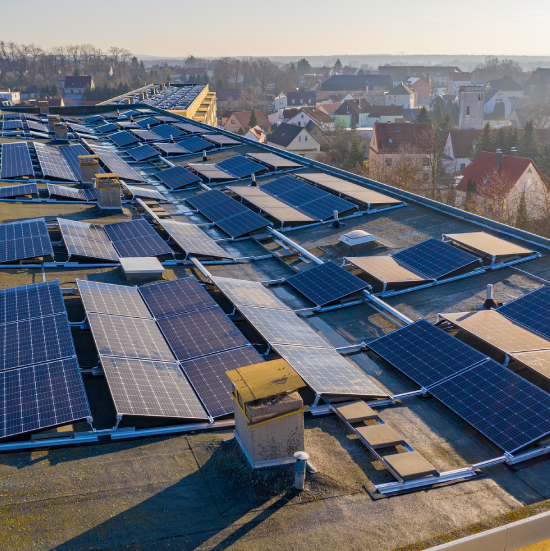 WHAT WE OFFER
Innovative Energy Solutions
01.
System design and complete EPCM (Engineering, Procurement, Consultation & Management).
02.
Civil activities which shall consists of module foundation and cable conduit construction.
03.
All technicalsupport and documentation required for statutory and regulatory approvals will be supported by Utkranti Urjatech.
04.
Installation and commissioning of all electrical components.
05.
Project planning and controlling.
06.
Supply of all project related material. (such as PV modules, invertors,structures,etc)
Utkranti Urjatech provides technical support & documentation required for statutory and regulatory approvals
On-Site Consultation
Our team will help you to choose the solar power system that suits your unique requirements

Trusted Advice
We'll advice you & submit essential approval credentials on your behalf.
Quick Turn-Around
Once the necessary solar components is acquired, start enjoying your new solar power system.

Flexibility
We'll examine your electricity usage & see where you are placed to gain the most advantage.
Budgeting
We'll personalize our recommendation to your budget, without compromising on service & quality.

International Standards
Our solar power products and services meet global standards and is guaranteed for 25 years or even more.
I am happy with all aspects of the solar rooftop project from inception to completion. All my questions were answered quickly and satisfactory. Quick install, nice, neat work.
Kailash Kumar Borate
Satara, Maharashtra
Utkranti Urjatech is a customer-oriented company. Our total experience with Utkranti Urjatech has been excellent. Mr. Utkarsh Aher visited our resident and talked about feasibility, expectations of how much electricity we could generate, as well as costs. An expert designer arrived a few days later and checked our roof to devise the most efficient method for generating power from our panels. In a single day our home was completely refitted – all the panels and inverters were installed on the roof and the electrical work to connect to the grid was ready to go. When the workers finished, there was not a trace that they had been here – just the equipment on the roof. We are completely comfortable recommending Utkranti Urjatech to anyone interested in going solar.
Sadanand Shinde
Alibag, Maharashtra
Very professional people. Great work and support. Utkarsh and his team paid attention to every detail for the project. I have seen a substantial reduction in electricity bill. I encourage people to put solar panels because that's the right thing to do. 
Ganesh Patil
Kolhapur, Maharashtra
Utkranti Urjatech performed two major tasks on our house one installation of solar Panels and second is installation of new solar water heater. Due to this our monthly electricity bill has reduced drastically. Utkranti Urjatech's installations have set us up for reduced monthly cost as we prepare to retire and become a fixed income household. We can now afford to live the rest of our years in the home we have always loved.
Laxman Pawar
Sangli, Maharashtra
We are pleased to be the owners of a Solar Water Heater System installed by Utkranti Urjatech at our residence. I am glad to say that your installation crew worked skilfully around all the differences and had the system operating in less than three days. Your representatives were courteous, and efficient at every stage of the purchase and installation process, from the initial energy assessment of our home to the final test of the system and clean up. The installation crew came when they said they would, worked steadily and finished on time. We are excited to bring our 19th century home into the 21st century with a system that goes back to direct use of the sun's energy. 
Ashok Babar
Solapur, Maharashtra
We Work For You
We Provide
AWESOME SERVICES
we're so confident we can find right solution for your solar needs we'll come to your home and walk you through all the options at no cost.