About Company
Company Profile
Started with a strong commitment towards a sustainable future, Utkranti Urjatech today has grown rapidly and has developed a significant footprint in the Solar Industry. Our journey has strengthened our belief in renewable energy and thus we are offering best solar power solutions while providing value for money to our clientele. We are present in the broad value chain of solar products from modules to system integration and has one of the biggest customer base of solar power plant installations in India.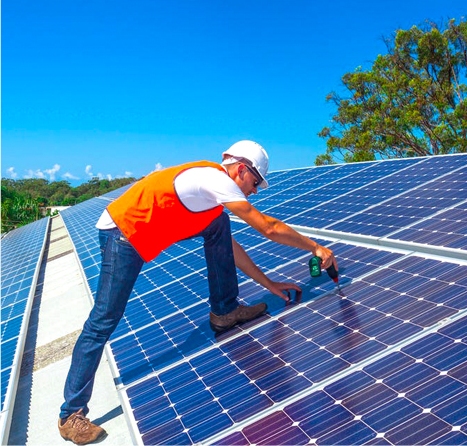 As one of the top Solar Companies in Mumbai, Utkranti Urjatech deals in all practical solar power services and products such as Solar Water Heating, On Grid Solar Systems, Off Grid Solar Systems, Hybrid Solar Systems, Solar Water Pumps, RoofTop Solar Power, Solar Street Lights, Solar Traffic Safety Products such as Blinkers & Studs, No Investment Utility Setup Plants, Turn Key Solutions, Operations & Maintenance, Project Management and also Financing.
Utkranti Urjatech also provides a free location analysis and offer customized solar solutions,- be it Residential, Commercial or School & Colleges, to fulfill rigorous standards for performance and reliability.
We assist society in solving their most demanding challenge which is energy, everyday. By our collaborative and flexible approach, we render real-world, sustainable, measurable solar power solutions that help our client base make the finest strategic decisions and implement the precise solutions. At Utkranti Urjatech, we believe in offering long-standing client relationships which paves a way to a better understanding of our client's unique requirements. Client satisfaction is our prime focus at all stages of our sales.
We support you in defining your needs, meet your requirements and special solar preferences, and bring into line them with your budget. We help you assess and equate your options to find the solar power system that is of high utility for you. Our comprehensive orientation is also reflected in project completion and brilliant performance record. Whether you are looking to engage in green energy or looking to make substantial savings, we can help.
Our Vision
To be an accountable leader in offering clean energy solutions for sustaining the planet.
Our Philosophy
Our philosophy is to offer high quality Solar Power Solutions to patrons through our team of motivated and able professionals. The emphasis of our work is always on how to attain measurable business benefits. Utkranti Urjatech approaches every assignment from a new perspective through our knowledge, experience and business segment expertise.
Any queries? Contact us today and we'll be happy to brighten your outlook on Solar Power!
We Work For You
We Provide
AWESOME SERVICES
we're so confident we can find right solution for your solar needs we'll come to your home and walk you through all the options at no cost.